Once again, we are proud to partner with the Midwest Comic Book Association in support of their chosen charities with another sweet PC gaming rig!  Their premiere event has been renamed "MSP Comicon" now, replacing "SpringCon" as the moniker – but the event remains just as awesome and entertaining as ever.  As the name implies, there's comic books and related stuff (like toys, posters, etc.) as far as the eye can see – but also gaming, movies & TV stuff, art, collectibles, and all other manners of pop culture interests…not to mention regular appearances by groups like the 501st Legion: Vader's Fist and the MN RollerGirls!  Yup.  Stormtroopers and roller derby girls.  If a fight ever breaks out, our money is on the RollerGirls BTW.  Hint: they're not really Stormtroopers…but the RollerGirls are real.
---
---
But we digress…feast your eyes upon this complete computer system, which will be raffled away with proceeds benefiting charities – this is a seriously sweet system that you could walk away with practically for free (tickets will be $2…c'mon, what else are you going to do with two measly bucks?):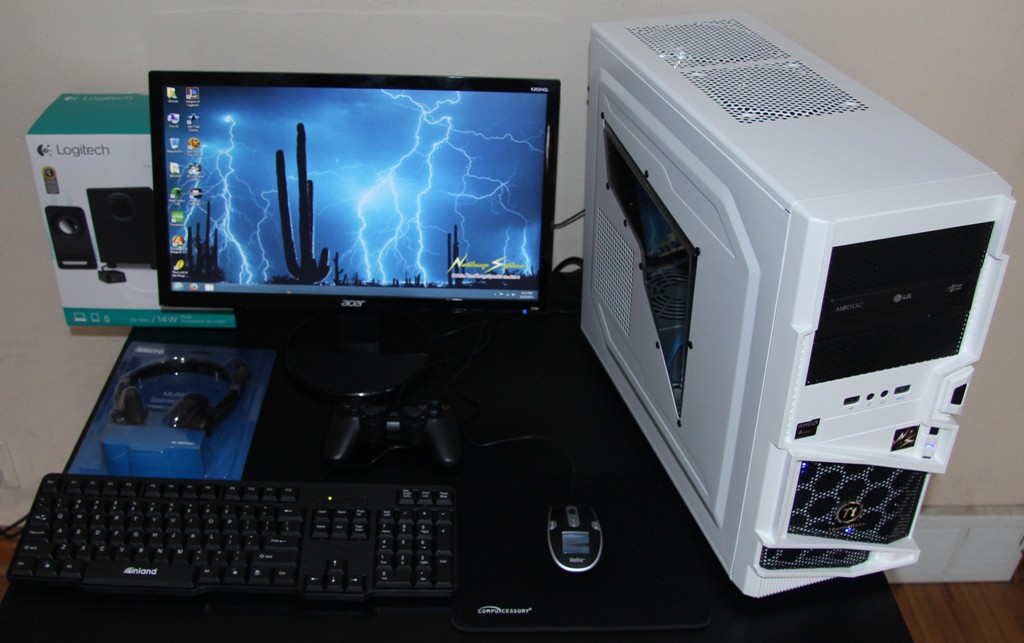 Here's some specs for your reading pleasure:
AMD A10 7700K Black Edition quad-core processor

On-chip Radeon R7 graphics with 2Gb of RAM assigned

8Gb DDR3-1600 RAM (2Gb for on-chip graphics, 6Gb for system)
1Tb 7,200 RPM SATA2 hard drive, DVD-RW drive
AMD Radeon R7 240 video card with 2Gb of RAM

Set in Crossfire (dual graphics mode) with the on-chip graphics processing: 2 graphics processors each with 2Gb of RAM for double-barreled gaming performance!

Awesome "modded" mid-tower case with 600w power supply, side window, & lighted fans
19.5" LED widescreen monitor
Keyboard, mouse, mousepad, 2.1 speaker system, gamepad, and headset
Windows 8.1 64-bit installed with Classic Shell for normal desktop & Start menu

Free upgrade to Windows 10 when it comes out later this year!

Installed software:  Microsoft Office Starter Edition, Microsoft OneNote, antivirus & antimalware, all the necessary utilities you need and no bloatware you don't
Awesome pre-installed games:
System comes with complete system backup/restore program and 1-year warranty from Northrup Systems
For what it's worth, we decided to name the system the Polar Vortex – which seems to fit with it's snowy color scheme, but also because it's been so freaking cold up here in the Great White North lately.  Anyway, be sure to get down to the 2015 MSP Comicon and buy your raffle tickets!  Need not be present to win…but you do need to buy a ticket!  And seriously…how could you miss the con anyway?  It's awesome!